5 Tips To Remember When Hosting A Lunch For Your Friends
It's a blessing to spend time with our loved ones, and with summertime upon us, now's the ideal season for relaxation.
If you're thinking of hosting a lunch for friends and family, go for it. Here are some things to remember while organizing a lunch party for your pals.
Use Your Exclusive Tableware
The slightest of details make the most significant difference to your parties. Get some cute balloons and flowers as affordable decorations. Cutlery and dinnerware hold immense importance in the fine dining experience.
It's one of the first things visitors will observe and remember until your next lunch. Therefore make sure you leave a lasting first impression with extra-ordinary tableware.
Play Some Music
Music tends to uplift one's mood and enhance feelings of contentment and joy among people, leaving an impression they thoroughly enjoyed your lunch.
Play relaxing music in the background as your visitors converse and eat. You can even play live delicate instruments like the violin or piano in the background for that calming effect.
Have Eye-Catching Decorative Items
A celebration would be incomplete without decorations. Consider your preferred party themes when you arrange the event. Take into account your plans. Is it a noteworthy event, a holiday, or a unique occasion? Think about that topic while choosing your décor.
You may discover a range of party themes and décor ideas on websites like Pinterest, so look there for decoration inspiration.
Plan Games
It's your duty as the host to maintain the guests' interest. Plan some fun party games to keep your guests entertained and engaged.
You can play Pictionary, who's most likely to, charades, etc., to make the evening exciting. A shortlist will be enough; there's no need to overdo it. Team games work best when more players participate in them.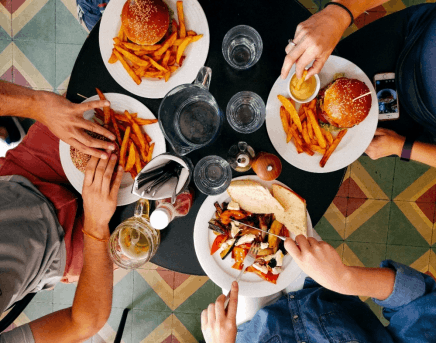 Satisfy Their Taste Buds
Almost everyone enjoys eating. No matter how good the party is, if the food is not up to the mark, they won't have much good to say for your lunch. Get the best on the plate to satisfy the taste buds of your visitors.
Billy Quon's SUR provides a variety of delicious and mouth-watering dishes. We also offer delicious lunch and dinner options to satisfy your taste buds, leaving you wanting more.
Our fine dining restaurant in Carmel has it all for you, including unique seafood, burgers, salads, and sandwiches. You can also order online from the convenience of your home.
Contact us today for tasty meals.