5 Ways to Reinvent Tacos
Who says tacos should just be enjoyed on Tuesdays?
Not only are tacos fun to eat but they are also super customizable—dress them up in guacamole, salsa, cream cheese, lettuce, or pickled onions and nail that street taco taste.
So, if you're a taco lover like us, you'll absolutely love some reinvented ways to dig into tacos this summer.
Mini Cheeseburger Tacos
Party time snacks or dinner? Your choice. With mini cheeseburger tacos, you'll get a heart-filling meal that'll speak to your appetite instantly. Cook the ground beef with spices that speak to you, assemble the mixture into mini taco shells, add some caramelized onions, top with shredded cheddar, and enjoy.
Vegetarian Tofu Tacos
For veggie lovers like yourself, enjoy a hearty meal that's full of goodness. Cut firm tofu into chunks, saute with olive oil, cumin, paprika, and salt, and assemble it into taco shells. drizzle some homemade vinaigrette on top, add in slaw, and serve with salsa.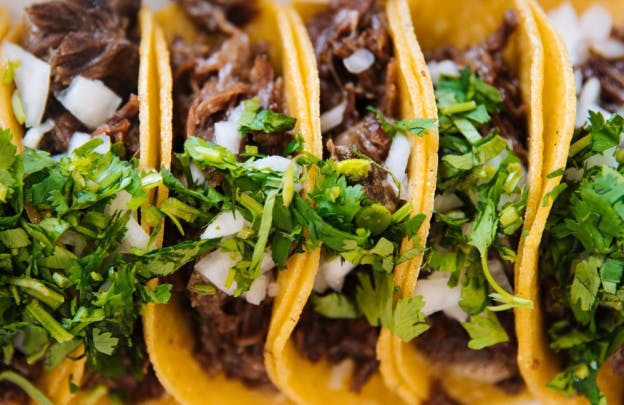 Walking Taco Time
Walking around with tacos? Sounds fun! So, what's so special about them? Well, all you've got to do is make the taco topping of your choice, grab a bag of tortilla chips, add the topping over it, and ta-da! Tacos that can be eaten while you walk around. Super inventive, right?
Vegan Chickpea Tacos
For all the vegans out there, there's no reason why taco time should be boring. Grab a can of chickpeas, cook them with the spices of your choice (we recommend chili flakes, a few drops of lemon juice, and salt), assemble them into your taco shells, and add some pickled onions on top and enjoy!
Steak Tacos
Who wouldn't want a steak in tacos? Marinate your steak at night (or use leftovers), assemble it on your taco shell, add in some salsa, and enjoy piping hot steak tacos.
Grilled Shrimp Tacos
Zesty and fine, grilled shrimp tacos are every seafood lover's secret indulgence. Put grilled shrimp in the taco shell, add a spicy aioli slaw for the crunch, cottage cheese for extra flavor, and a spritz of lime juice on top.
Dine-in at SUR Today
Are you visiting the Big SUR and want to have food that tantalizes your taste buds? Head over to SUR today, an ambient, chic restaurant in Carmel, CA. We offer an extensive menu that'll leave you wanting more.
Our fried chicken and waffles with French dip are a favorite for most, but you can also order seafood, sandwiches, chicken entrees, or order vegetarian food, salads, and burgers online.