7 Must-Try Chicken Dinner Recipes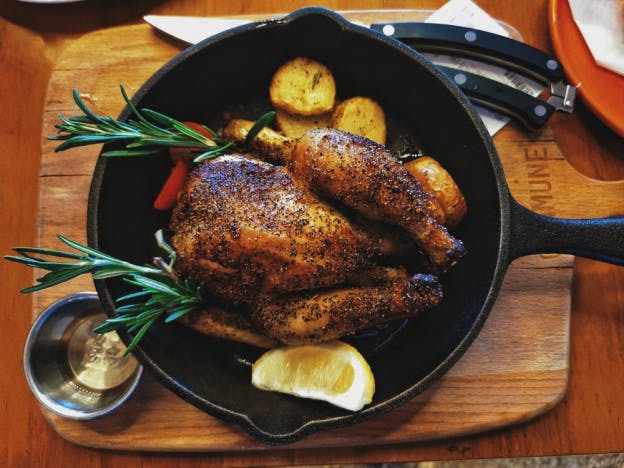 Chicken dinner—the comfort food we all seek at the end of a long day. But if you keep cooking the same thing over and over again, it just gets boring. So, how can you keep cooking easy chicken dinners without spending hours in the kitchen?
Simple; by following the chicken recipes we've compiled for you!
Coq Au Vin
A meal that'll transport you to a cozy Parisian bistro! This easy chicken dinner features chicken (drumsticks and thighs for some super juicy bites), carrots, onions, and mushrooms cooked in a savory red wine and chicken sauce.
Tuscan Chicken Skillet
From Tuscany itself! Tuscan chicken skillet is far from bland. Choose tender chicken breasts or juicy chicken thighs and cook it in a skillet full of bacon, cream, and Parmesan—sounds mouthwatering, doesn't it?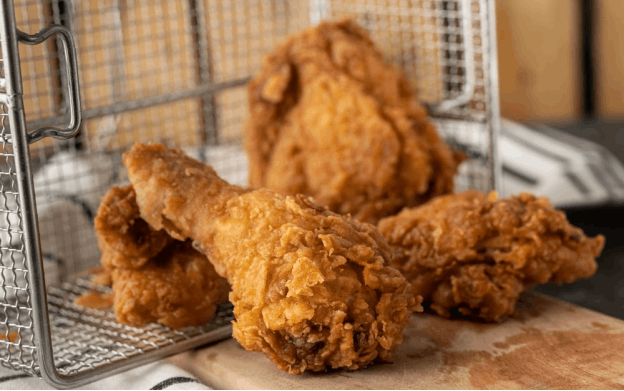 Keto Mediterranean Chicken
On a keto diet? This one's for you. This chicken dish is bursting with Mediterranean spices, a healthy dose of olive oil, olives, Greek yogurt, and a splash of red wine vinegar. Comfort food that'll make you feel happy and healthy.
Chicken Adobo
A Filipino chicken recipe that just needs a single pot to cook in and a handful of ingredients. Use chicken pieces of your choice, garlic, white vinegar, soy sauce, and a little sprinkled chilli flakes for an added kick. Serve with garlic rice and enjoy.
Chicken Shawarma
This popular middle eastern dish is savory and filling. Made with chicken marinated with garlic, lemon, olive oil, and spices (roasted), it's served in pita bread with chopped veggies and a hummus dip.
Chicken Tikka Masala
A well-loved subcontinental dish, chicken tikka masala can be prepared on stove top in just a few minutes. Marinate chicken in yogurt, lemon, ginger and garlic paste, cook it in a creamy tomato sauce, and add in a bunch of spices to kick things. Serve with naan or rice.
Fried Chicken
Southern fried chicken is a classic comfort food. All it needs is chicken, buttermilk, hot sauce, salt, and pepper, and some crazy good frying skills. If you want something simpler, why not just order fried chicken from SUR?
Book Sur for an After-Hours Dessert Party
Are you throwing a party and want the dessert to be on point? Head over to SUR and host your after-hours dessert party with us. Our aesthetic space, fine-dining atmosphere, and affordable rates will make your celebrations only better. Bring 30-90 of your closest friends and give them a party to remember at just $795 (tax + gratuity).
We're a fine dining restaurant in Carmel, CA, that also offers a mouth-watering three-course menu, including fried chicken and waffles, seafood, burgers, vegetarian food, and more.