What Makes A Great Salad
A salad was considered the least-favored form of food among the majority. However, with the evolution of food industries, salads have taken a new form. You can add vegetables, fruits, beans, and even meat, if you're not a vegetarian, to your salad as per your liking.
Here's what makes a great salad.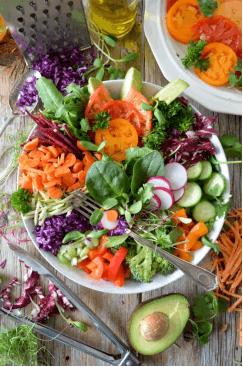 1.Sweetness
A little sweetness blends perfectly with savory dishes. Fruits are what bring this sweetness to the otherwise plain salad. Add fresh, dried, or canned fruits to your salad to add natural sweetness.
You can add sliced pears or apples with the skins still on for aesthetic appeal and high nutritional value. The skin also offers vital dietary fiber and aesthetic appeal. Pears and apples blend perfectly with salads. You can also add olives for that extra punch.
2.Crunchiness
The crunch in a salad is what gives it some flavor. Add crunchy fruits, veggies, croutons, seeds, and any other item you have on hand instead of only sticking to the crunch of the greens. These not only add flavor but also have high nutritional value. You can use peanuts, romaine, and fried wontons for that added crunch.
3.Creaminess
After including the crunch, balance it with the creaminess to give the dish a smooth texture. One of the most common options is cheese, but avocado also tastes rich.
Experience this creaminess while devouring the Classic Caesar Salad at Billy Quon's SUR. This salad is made up of asiago cheese and a creamy Caesar dressing that balances off the crunchiness of all the other elements in the dish.
4.Dressing
Your salad bowl's success depends on the dressing. You can add different spices, herbs, and vinegar to make up dressings.
The dressing is a crucial component of the salad since it enhances the flavor and makes the salad more palatable while also making it look better. It also increases your salad's nutritional value.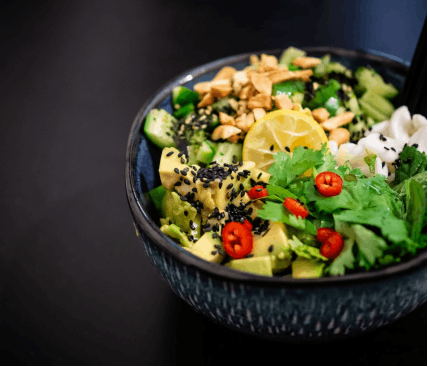 Try Exclusive Salads at Billy Quon's SUR
Billy Quon's SUR provides a variety of delicious and mouth-watering salads. Our signature beet salad is one of a kind. We also offer delicious lunch and dinner options to tantalize your taste buds with our crispy fried chicken and waffles, leaving you wanting more.
Our fine dining restaurant in Carmel has it all for you, including unique seafood, burgers, salads, and sandwiches. You can also order online from the convenience of your home.
Contact us today for tasty meals.